Romain Febvre of the Monster Energy Kawasaki Racing Team heads into the summer break a clear second in the points standings of the FIM World MXGP Motocross Championship after the Latvian GP at Kegums.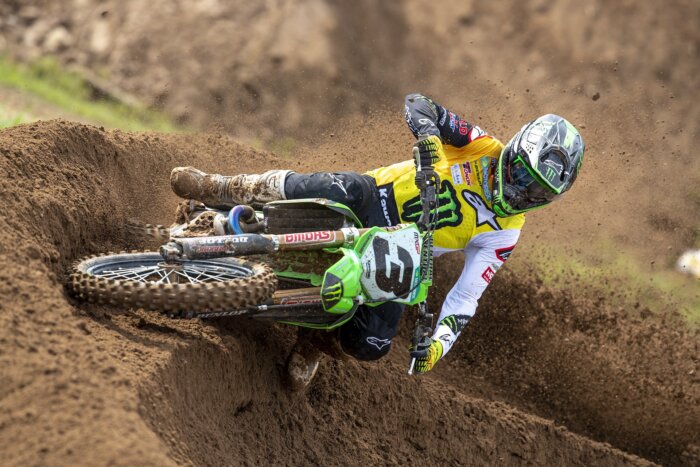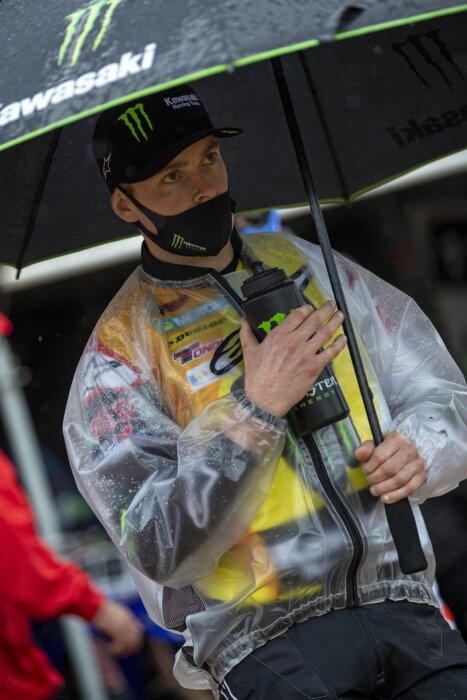 The Frenchman recorded a solid fourth-fastest time in Qualifying to line up with a favourable inside gate but was the innocent victim of a clash straight out of the start of race one as his immediate neighbour failed to hold a straight line and bounced off the rider on his other side straight into the Kawasaki leader. Forced to close the throttle momentarily Febvre was buried in the pack but a furious opening lap saw him make innumerable breathtaking passes to advance to seventh. A lap later he was sixth but all of his title rivals were still ahead of him and, with the entire leaderboard recording similar lap times in a high-speed train, Romain could not advance further until five laps from the end; he came frustratingly close to taking fourth on several occasions but eventually had to settle for fifth. A clear holeshot – his fifth of the season – in race two saw the Kawasaki star immediately race clear, opening up a two-second lead already on the first lap and extending it further until a momentary lapse, when he spun out in a left-hander on lap three as light rain made the track surface slippery, cost him ten seconds and dropped him to fourth. He quickly regained his composure to close down the leaders once more and was rewarded with third place at the finish when a rival fell on the final lap. Narrowly missing the overall podium by one position in fourth, he had the consolation of setting the fastest lap of the second race as well as taking the holeshot award. More importantly he is now a secure second in the championship points standings as the series goes into the four-week summer break before resuming action with a double-header in Turkey during the first week of September.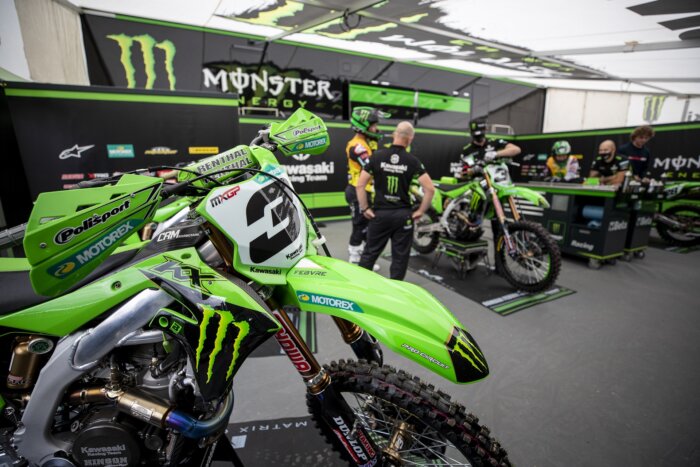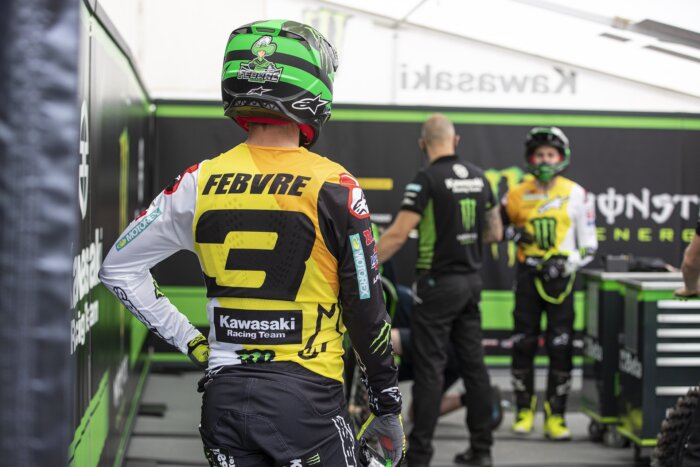 KRT teammate Ivo Monticelli had been unable to practice during the week after damaging his shoulder at the previous GP so he inevitably took time to settle on the rugged sand track. Twenty-second in Qualifying he used the performance of his KX450-SR admirably to power around the pack at turn one and claim an early eighth place in the first moto but he gradually surrendered positions to the sand specialists throughout the race to finish sixteenth. The Italian had no change in fortune in race two as he was brought down at the first corner; within six laps he had charged from last to nineteenth until a fall pushed him downfield again but he regrouped to regain five positions during the second half of the race for a further points-scoring finish in eighteenth. He is now nineteenth in the points standings.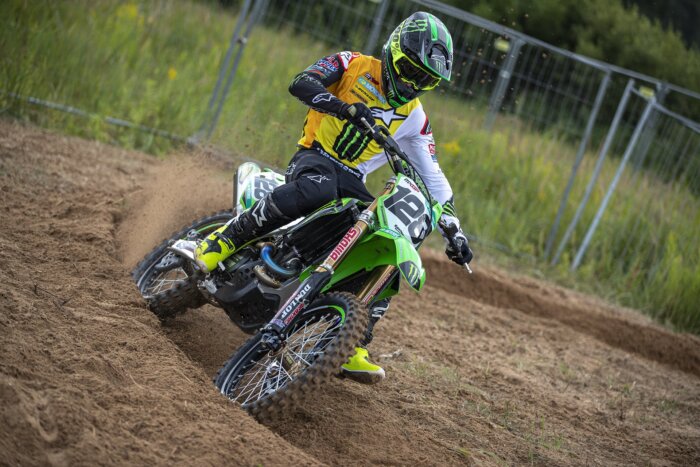 Romain Febvre: "I would say it was a decent GP! The first race was not easy; my start was not very good and I could come back to fifth, close to the other riders in front of me, but I wasn't able to attack them. The second moto start was perfect with another holeshot, I had a good feeling but once more I slid out in a corner and crashed! I came back to fourth in the race and couldn't do more. The track was really strange this year and with the rain it was even more complicated; I was lucky that Jeffrey crashed on the last lap and handed me the third position. Now we have a break; we are in a good position in the points and we will work on the details that we need to win this championship!"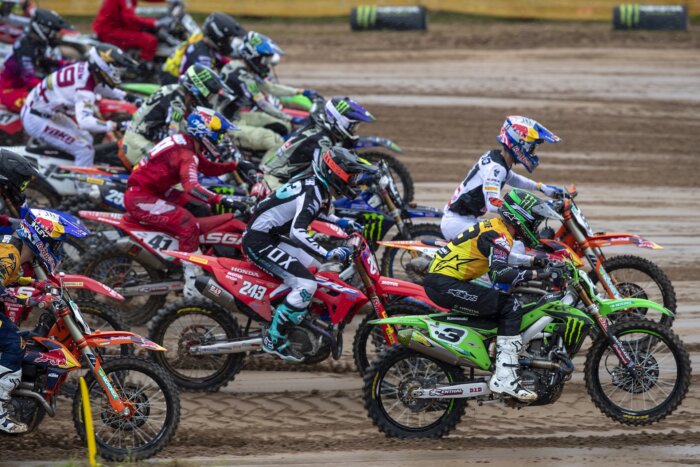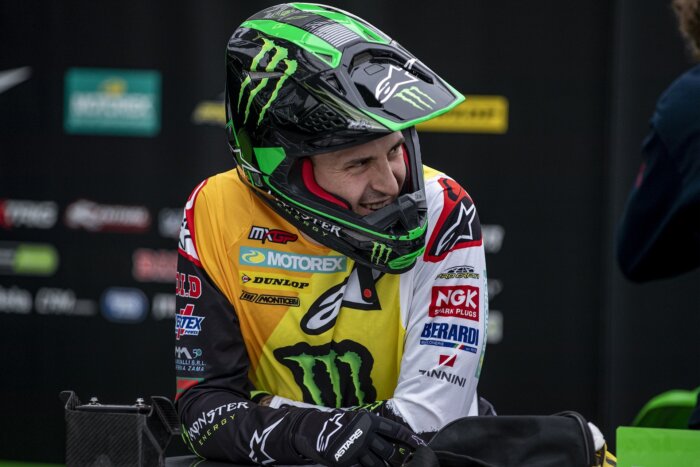 Ivo Monticelli: "Today was pretty hard for me. I was not able to ride during the week after injuring my shoulder in Lommel so I didn't find a good feeling for the track in the morning; the track was bumpy with many ruts so it was hard for my shoulder. I made a really good start in the top eight in race one, then I just rode my own rhythm; it wasn't fast but I could score points. I had a better feeling for the track in race two but another rider took me out at the start and I had to wait to free my bike; I found a good feeling to come back to nineteenth but then I had a big crash and had to rebuild again to finish eighteenth. My riding was positive in the second moto even though I crashed too much. Now I have four weeks to rebuild my shape before the next GP; first I will go back home in Italy for a few days to get some rest, then we will work with the team to prepare for the rest of the season."
Monster Energy Kawasaki Racing Team MXGP would like to thank: Kawasaki, Monster Energy, Alpinestars, Motorex, Pro Circuit, Dunlop, Showa, Xtrig, Renthal, Vertex, Polisport, Hinson, Wagner meca, Braking, Kawasaki Apparel, D.I.D, Twin Air, NGK, Blackbird, Cometic, Antigravity batteries, Haan Wheels, Beta, CRM, Samco Sport, JTEKT, Ogio, Mechanix Wear, Matrix concepts, Mollar, Garage Tonon, Oakley, GoPro.