Romain Febvre of the Monster Energy Kawasaki Racing Team moved to within four points of the FIM World MXGP Motocross Championship pace-setter with another podium finish at Riola Sardo on Sardinia.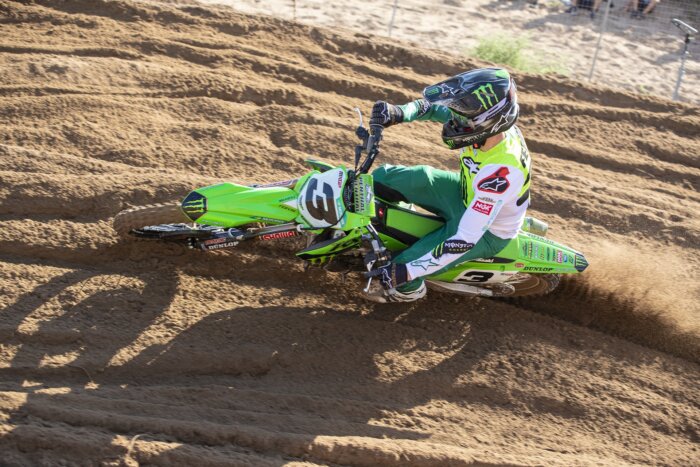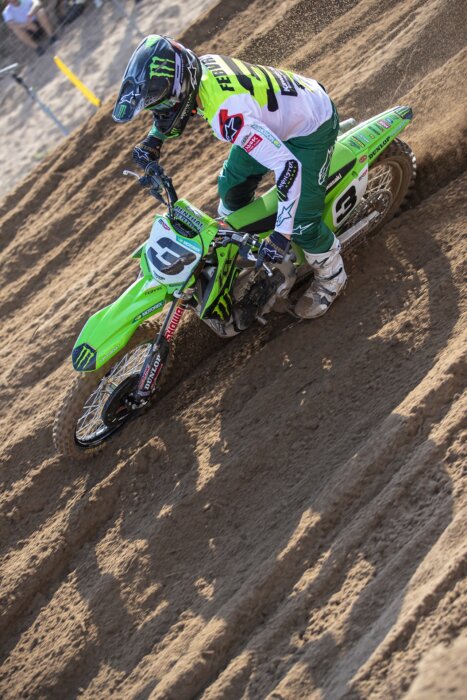 The Frenchman and the KRT team have good experience of the track in the Sardinian sand dunes after racing there each February in recent years. The surface was much less compact at the end of a long dry summer and Romain had to be satisfied with tenth choice of gate after missing an unhindered lap during a hectic Qualifying on a busy track. Nevertheless the team made a wise choice of start gate to get a good run through turn one and Romain struck quickly to advance to fifth already on the opening lap of race one. The leaderboard sextet settled into a rapid pace through the early laps though an unfortunate incident on lap four as the Kawasaki rider's front wheel tagged the rear wheel of the rider he was attempting to pass for fourth actually cost him a position temporarily. He remained unruffled, confident that he had the speed and the physical fitness to advance during the second half of the race around the exacting track.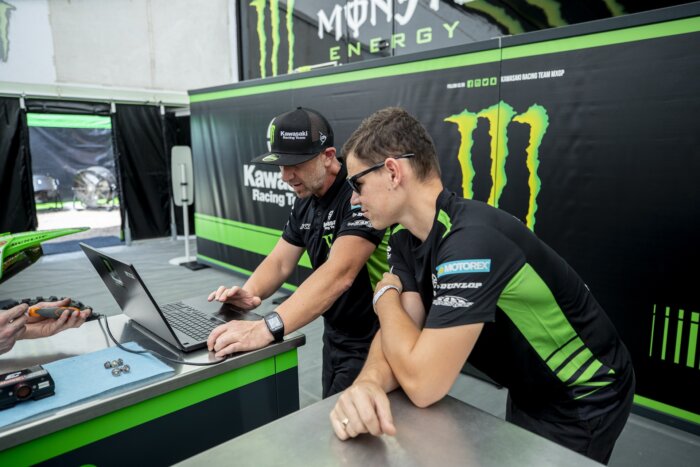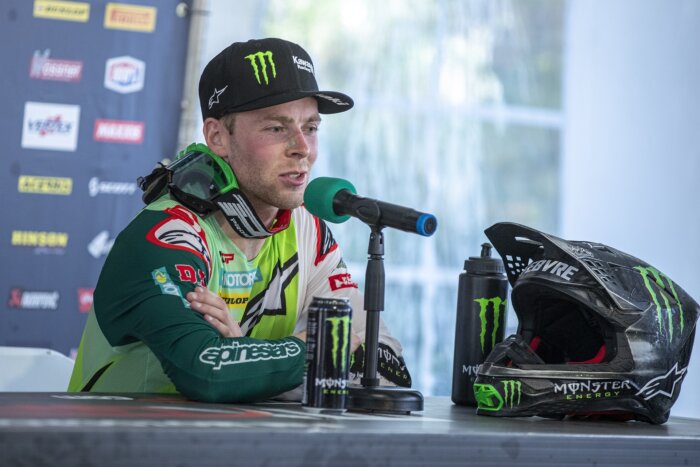 And so it proved; at half distance he drove under a rival to regain fifth and on lap thirteen made an exhilarating outside pass for fourth. Third place was still some way down the track but the super fit Frenchman was gaining several seconds a lap during the closing stages to make the pass stick on the penultimate lap. A better start in race two saw the Kawasaki rider quickly establish himself in a three-man breakaway, the pace of which was so high that it eventually took them nearly forty seconds clear of the field. On several occasions the Frenchman came close to finding an opening but eventually had to be content with another third-placed moto to claim his fifth overall GP podium of the season. More importantly he has closed the gap to the series leader significantly to just four points with eight rounds remaining.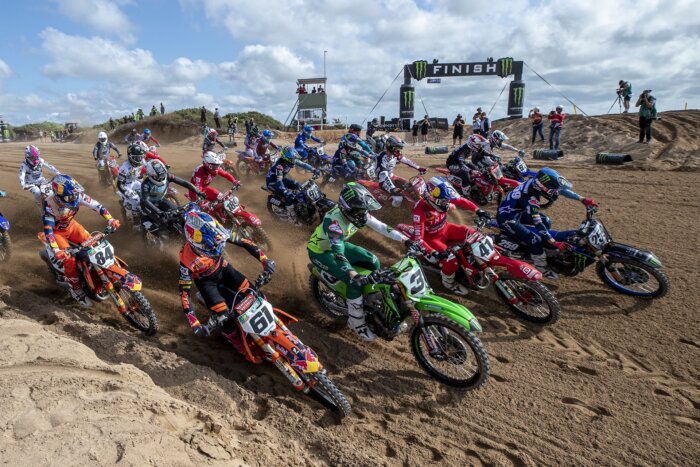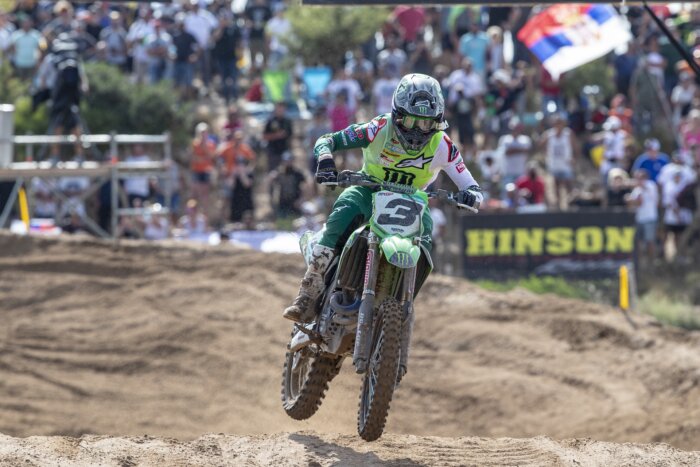 Romain Febvre: "It's been a good day for us. I was a little sick last week and lost a few points but we pulled them back today. I couldn't find a clean lap this morning so I didn't have a good choice of gate which made it more difficult for the start; I was in a fight for tenth at first in race one but I came back to third. I was happy with my riding so I knew I could run with the leaders with a good start in race two. We were a group of three at the front; it was a nice race. I was just behind Jeffrey and Jorge and I thought maybe they would make a mistake and I could pass, but they didn't make any mistakes and I was not in a position to pass. Still, third is good for the championship. My approach will stay the same for the next few races; to get good starts and be consistent. I prefer hardpack, and we don't have any more really deep sand tracks; we will race at Lacapelle in France next month and I really like Arco where we are scheduled to have three races. We are really close in the championship now with all to play for for the rest of the season. "
Monster Energy Kawasaki Racing Team MXGP would like to thank: Kawasaki, Monster Energy, Alpinestars, Motorex, Pro Circuit, Dunlop, Showa, Xtrig, Renthal, Vertex, Polisport, Hinson, Wagner meca, Braking, Kawasaki Apparel, D.I.D, Twin Air, NGK, Blackbird, Cometic, Antigravity batteries, Haan Wheels, Beta, CRM, Samco Sport, JTEKT, Ogio, Mechanix Wear, Matrix concepts, Mollar, Garage Tonon, Oakley, GoPro.