Lewis Rollo gave the RAF Regular & Reserve Kawasaki team their first ever victory in the Pirelli National Superstock Championship at the weekend with a superb ride in the wet at Donington Park on Saturday – and with Ryan Vickers taking two strong top eight finishes in the Bennetts British Superbike Championship, it proved to be a strong meeting at the Leicestershire venue.
Conditions were treacherous on Saturday but after qualifying in a solid ninth for the 12-lap Superstock race, a superb start by Lewis saw him leap up to third on the opening lap and a lap later this had become second as he moved ahead of reigning champion Chrissy Rouse. The East Lothian then overtook Billy McConnell for the lead on lap three and when the Australian crashed a lap later, Lewis' lead shot up to in excess of three seconds.
Over the next few laps, he steadily increased his advantage over the rest of the field and at half race distance it was up to eight seconds! That meant he could ride to his signals in the latter half of the race and he duly brought the Kawasaki ZX-10RR home for a superb victory.
Starting Sunday's race from third on the grid, Lewis started strongly and was quickly into second place but by lap three he'd been pushed back to seventh. Sadly, his race came to an abrupt end a lap later with a low speed spill at the Melbourne Hairpin so it was very much a weekend of two halves.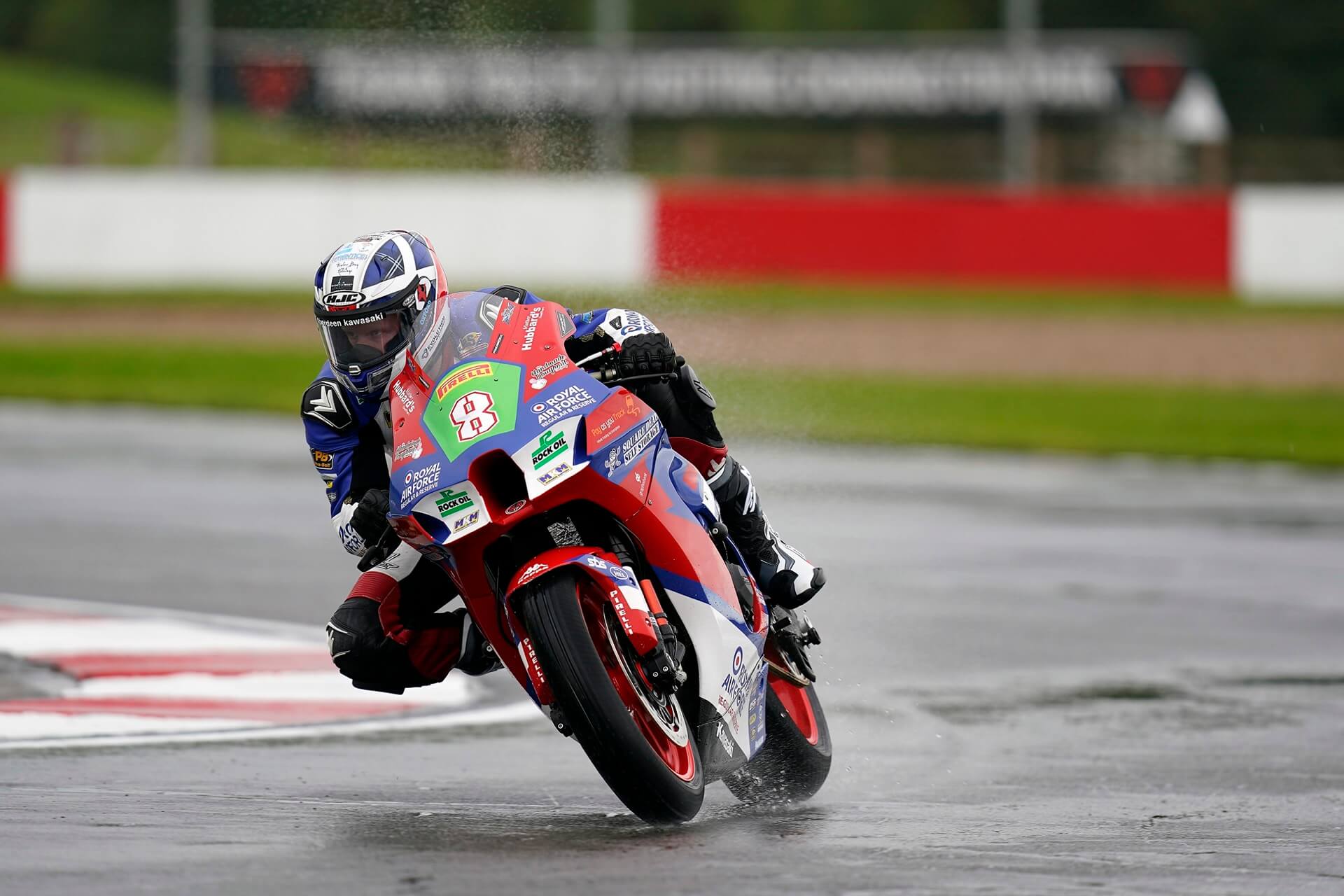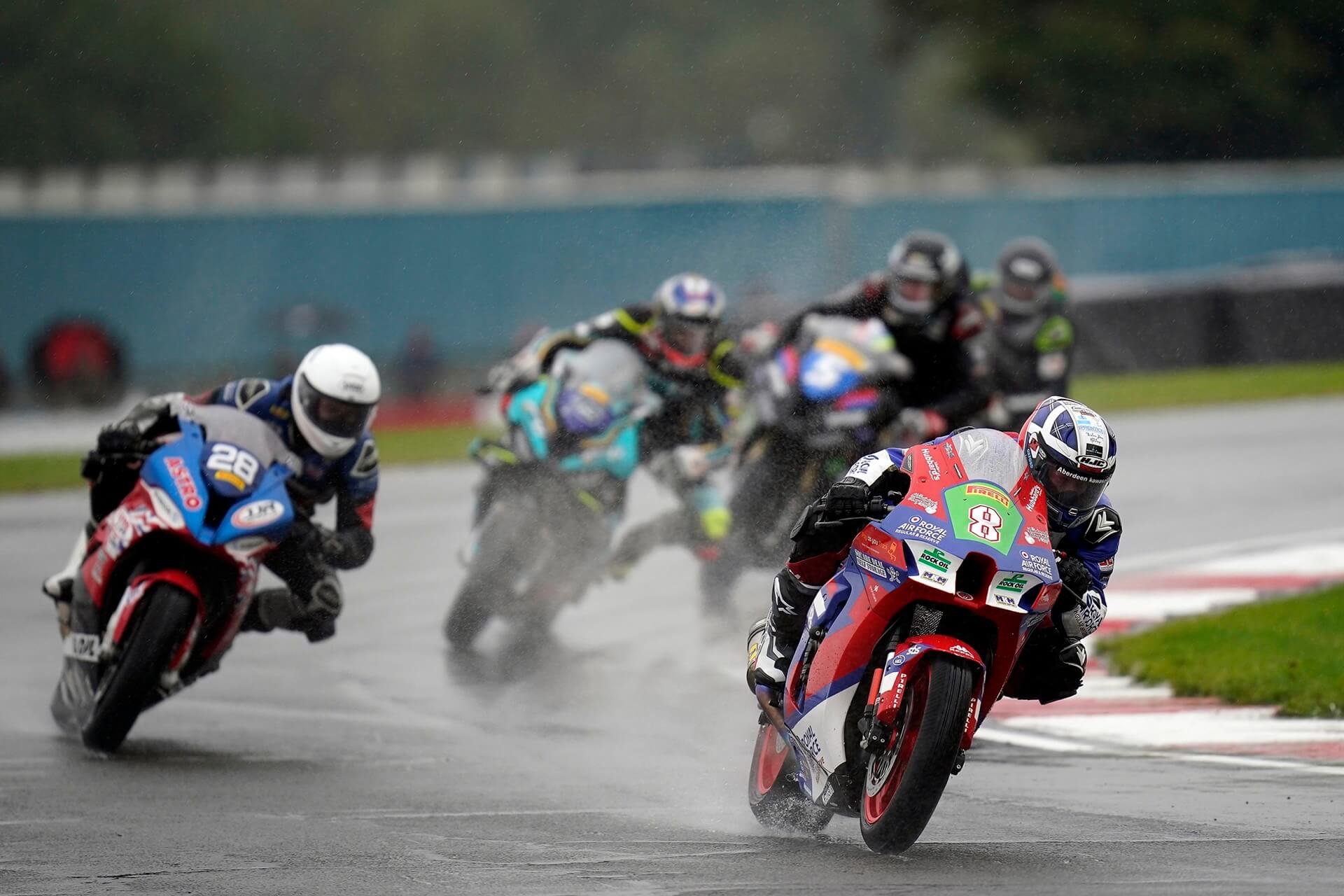 For team-mate Vickers, it was a difficult start with a crash in free practice on Friday putting him back in 24th on the timesheets. However, he regrouped well on Saturday and after qualifying 13th, he put in a good ride in Saturday's opening Superbike race, which again took place in the wet conditions, to finish in a solid eighth.
The lack of dry practice time on Friday hurt him in Sunday's opening race and having gone in the wrong direction with set-up, he had to settle for 15th and a single point. However, his weekend ended strongly with the third and final race seeing the wet weather return. Despite having to start from 19th on the grid, he worked his way through the pack to claim  an excellent sixth place at the chequered flag.
Ryan Vickers: "The weekend started terribly with my crash in FP1 but the team changed the engine and with different characteristics and smoother power delivery, I felt a lot more comfortable especially in the wet. I was really happy with my two results of sixth and eighth in the two wet races but the lack of track time in the dry hurt me in Sunday's first race. I just didn't have the dry set-up to push as I would have liked. We've had a difficult few rounds of late but a huge thanks to the team for sticking by me and keeping their heads up, I really appreciate it so it's good to reward them with two strong finishes this weekend."
Lewis Rollo: "Saturday was a mega day despite of the conditions and after an ok qualifying, I made a good start to get up to P3 at the end of lap one. That soon became P2 and I could see Billy was having a lot of moments so pushed on to get by him as a quick as I could. When he crashed, my lead shot up and before I knew it, it was up to eight seconds. It was really tricky out there and wee moments felt like huge moments so I just concentrated on hitting my apexes and clicking my laps off. It felt mega to get the win and be on the top step and I was so happy to get the team a trophy as it's been a hard old year at times."
Lee Hardy, Team Owner: "Conditions were tricky all weekend in terms of both the wet and the cold temperatures but Lewis put in a phenomenal ride on Saturday and we were all absolutely delighted to take the team's first Superstock win. The bike was on rails and he rode impeccably; you could see how few mistakes he was making compared to the other riders and it was a thoroughly deserved win and something we really needed as a team."
"For Ryan, Friday was another challenging day but he put in a mature ride in the treacherous conditions on Saturday to take a solid finish. We went the wrong way with set-up in the dry race which compromised his race but Ryan had a great feeling with the bike in the wet so when the rain returned, he was able to put in another strong ride. To come through to sixth from 19th was a superb effort so we'll look to end the year strongly at the final round."
Pictures by Tim Keeton – Impact Images Photography