Adam Sterry, Conrad Mewse and Ashton Dickinson raced around a hard-pack hillside in the Czech Republic this past weekend. Loket, a staple on the Grand Prix calendar for many years, played host to the fifth round of the 2021 FIM Motocross World Championship. Following an encouraging outing at the previous race in The Netherlands, the trio were eager to continue to build momentum in front of a limited crowd.
 
Adam Sterry is quite a fan of the Loket circuit, which was clear in timed qualifying. Sterry set the thirteenth-fastest time and entered the motos with confidence on his side. Proving that pace was no fluke, he was as high as twelfth in moto one before a handful of mistakes left him in nineteenth at the chequered flag. Moto two was a real example of what he is capable of – he sat on the cusp of the top ten for the duration and hit the finish in thirteenth. Seventeenth overall was his final ranking at the Grand Prix. Additionally, he jumped to twenty-second in the championship standings.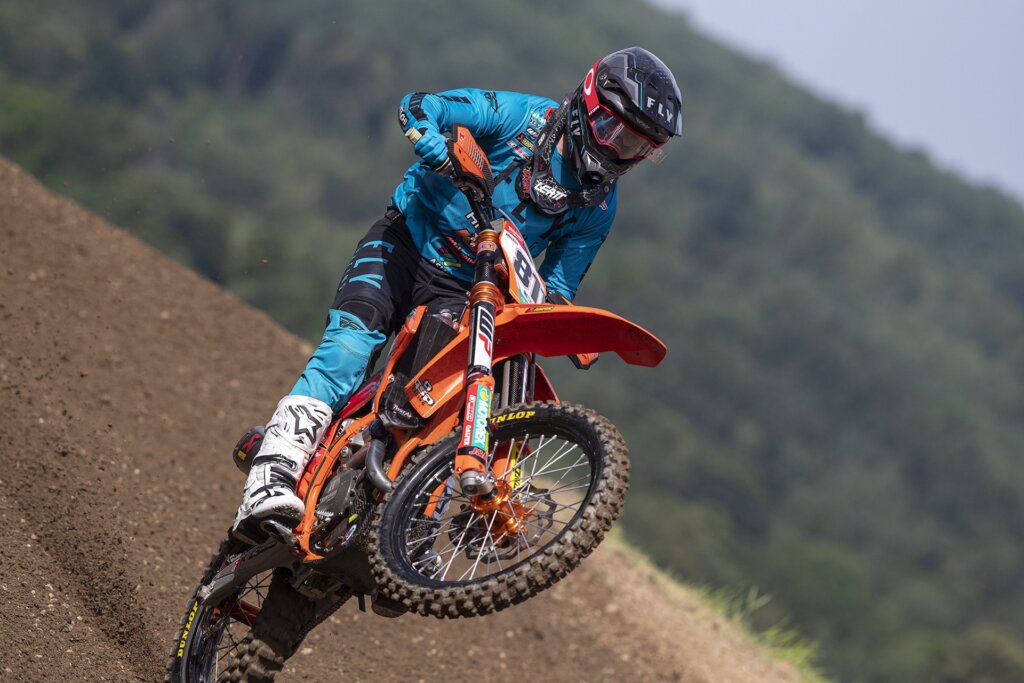 Conrad Mewse suffered from a bad start in the first MX2 moto – he was thirty-second at the end of lap one and battled up to twenty-fifth before retiring with a freak problem. The second moto was a significant step in the right direction though; he started the moto in eleventh and progressed to tenth by the end. That was his first top-ten ranking of the term. Taking fifteenth overall on the day helped him make some progress in the championship standings too, as he now runs seventeenth.
 
Ashton Dickinson continued to grow as a Grand Prix rider and learn from those around him. Dickinson got shuffled outside of the points on the first lap of moto one but battled back up to nineteenth with two laps to go. An issue meant that he could not quite finish, unfortunately, but he could take comfort from the fact that he was deserving of some points. An opportunity to make a step forward in moto two was ripped from his grasp when he was caught up in a crash in turn one, which left him battered and bruised. Dickinson did not re-join the race.
 
Hitachi KTM fuelled by Milwaukee will now return to the sand. The Grand Prix of Flanders-Belgium is set to be held in the bottomless sand of Lommel next weekend.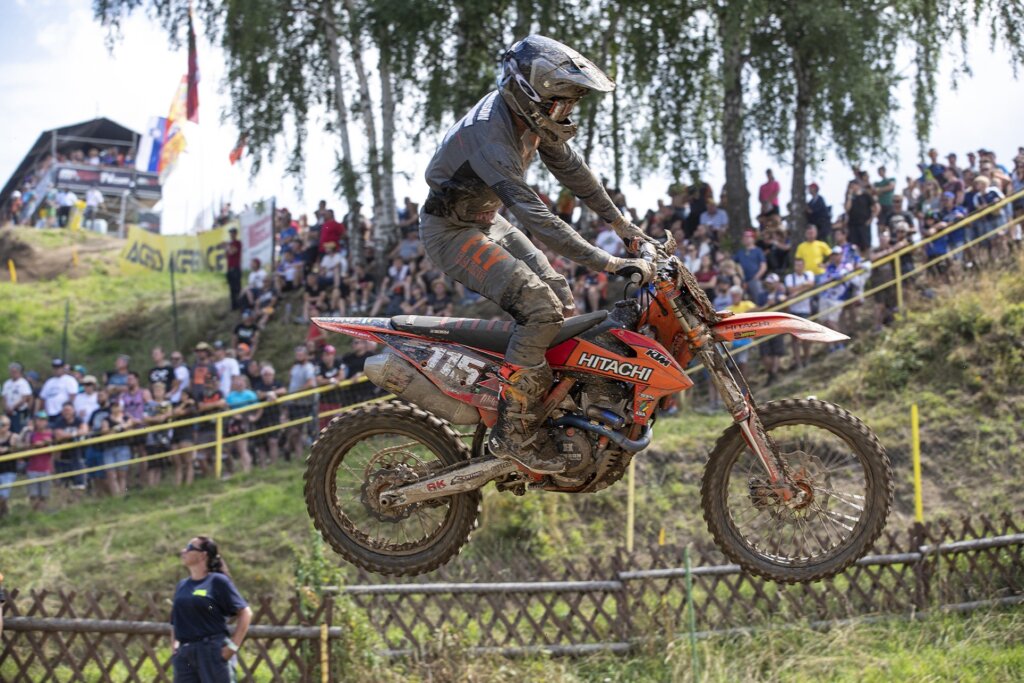 Adam Sterry: "I actually had quite a good start in the first moto, but overshot a corner and went into a fence. Then with three laps to go I jumped up behind pit lane and there was a big rock, so I washed out. I still ended up with two points, so it was not the end of the world. The second moto was much better with a thirteenth. This weekend was a step in the right direction, with my best qualifying in MXGP as well."

Conrad Mewse: "I am happy with how the second race went. I should have had a great start in the first race, but some issues on my behalf held me back from that. I finally managed to turn it around for the second race. It was not the best race that I have done, but I was happy with it. Thank you to the team for sticking behind me. Hopefully we have turned a bit of a corner here."
  
Ashton Dickinson: "The Czech MXGP was a tough day at the office for me, with a DNF in moto one due to a freak issue. I got caught up in a big first-turn crash in moto two and got run over a couple of times, so did not finish that one either. I will rest up now and come back stronger."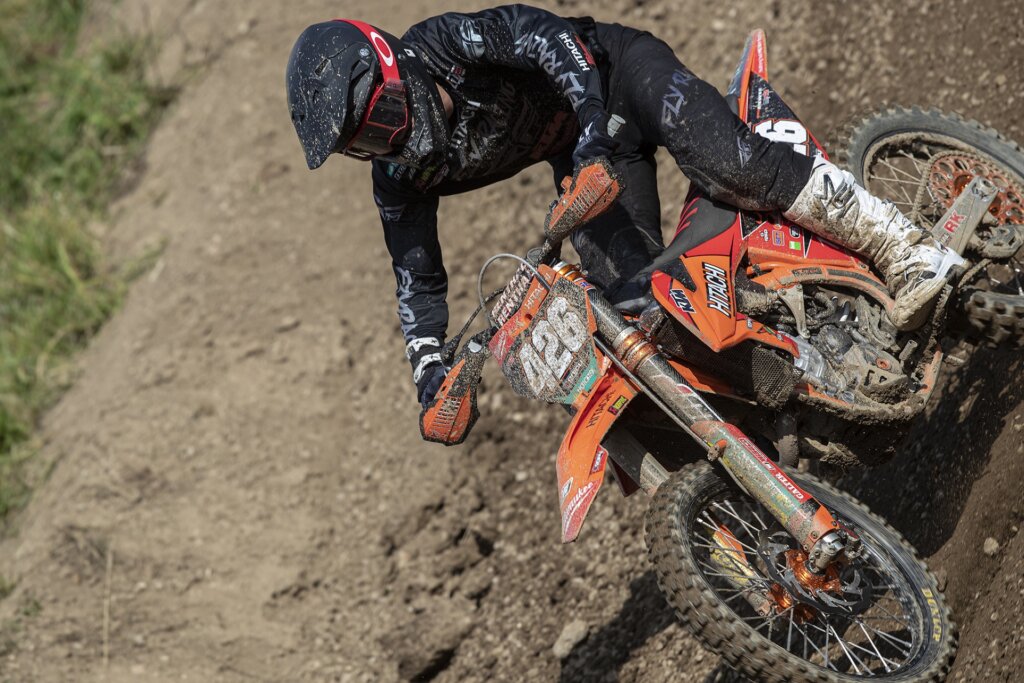 Roger Magee (Hitachi KTM fuelled by Milwaukee Team Owner): "The hard-pack track was a bittersweet experience for the team today. Conrad had another disastrous start in moto one and was outside the points when he had to retire with what turned out to be a minor technical problem. He redeemed himself in moto two with a much better start, which made it much easier for him to bring it home in P10. He needs to work on his intensity at full-race pace and mix with the top six, which is achievable. 

"Ashton had a nightmare of  a round due to circumstances totally outside of his control. After running in the points for most of the first moto, he suffered an unusual tyre problem on the penultimate lap and that caused a DNF. He got caught up in a pile-up going out of turn one in moto two, which claimed a number of riders and caused another DNF.
 
"Adam again showed his potential in both MXGP motos by running in the top twelve but faded in each race and lost valuable places. He ended up in P19 and P13. The team will now prepare for our 'local' GP at the iconic Lommel circuit in Belgium."