Hitachi KTM fuelled by Milwaukee jumped into the bottomless sand of Lommel earlier today, as the historic track played host to round six of the 2021 FIM Motocross World Championship. The gruelling circuit, which suits both Conrad Mewse and Adam Sterry, was lined by a limited number of fans. Ashton Dickinson was sidelined after a crash in Czech Republic.
Conrad Mewse was brimming with confidence as he jumped onto the sandy track – his natural ability on such a treacherous track was clear for all to see. Fourth was the spot that he secured in qualifying, which gave him some valuable momentum ahead of the races. Exiting turn one in fourth in moto one, Mewse quickly moved into third and set his sights on the race leader. There was no doubt that he had the pace to contend and thus he was biding his time, knowing that the race was long. An electrical issue caused him to grind to a halt, however, and focus on moto two.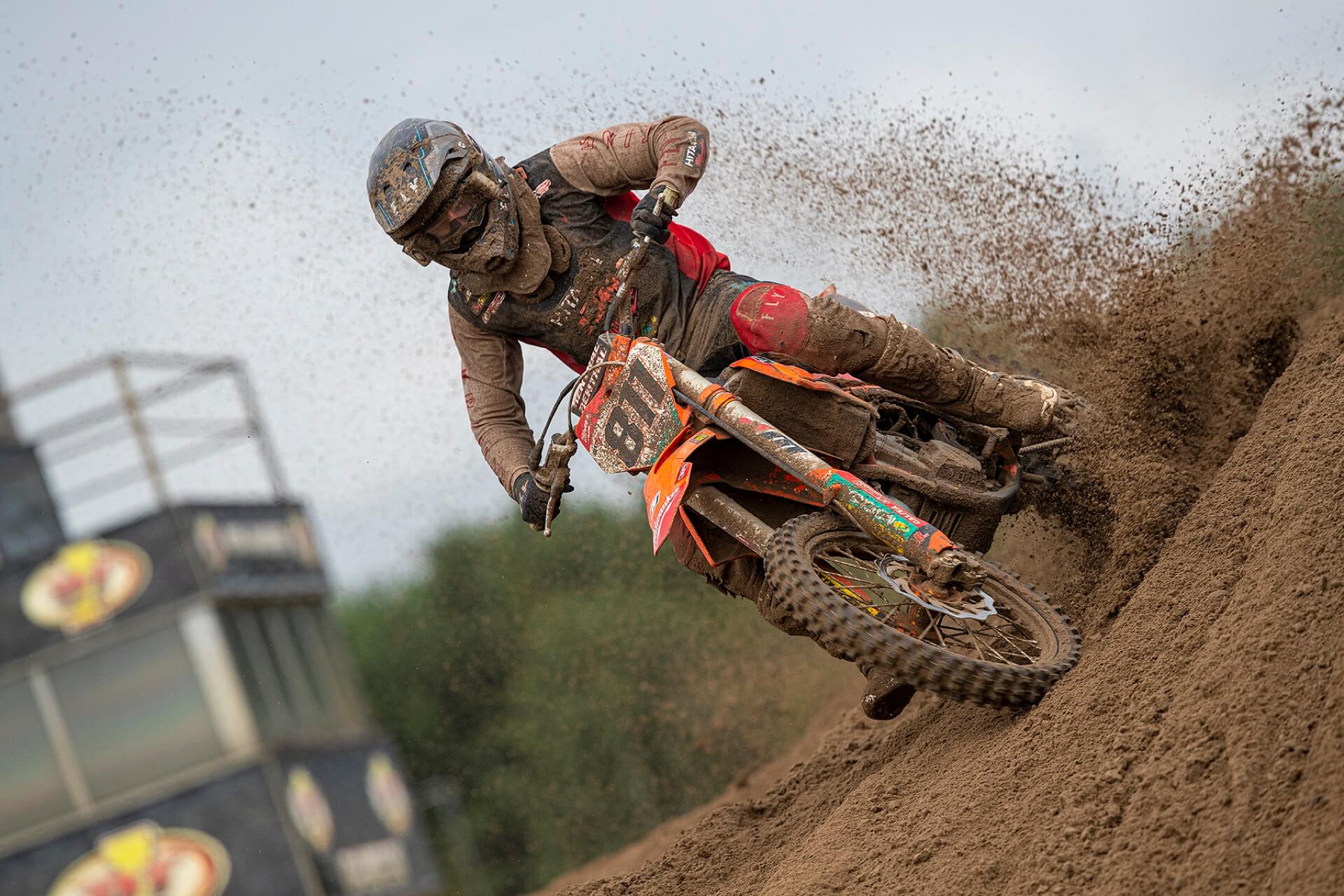 Hungry for redemption, Mewse started the second stint in fifth and immediately set his sights on those ahead. Torrential rain made a challenging circuit even more treacherous and vision was an issue, so Mewse was forced to pull in for fresh goggles just after the halfway point and ultimately crossed the line in sixth. The Grand Prix of Flanders-Belgium was a significant step in the right direction, even though fourteenth overall is not a true representation of the speed that he possessed.
 
Adam Sterry struggled to find his groove early in the very competitive premier division, as he battled on the cusp of the points in moto one. Twenty-first was the position that he took, so he just missed out on points. A fall in the first turn of the second moto meant that Sterry faced another challenging time of it – he hit the finish in twenty-second and just missed out on some points for a second time. Twenty-fifth overall was his final ranking at the Belgian event.
 
The Hitachi KTM fuelled by Milwaukee squad will turn attention to domestic duty now, as the ACU British Motocross Championship will resume at Blaxhall next weekend. Mewse leads the MX2 class in that series by 37 points.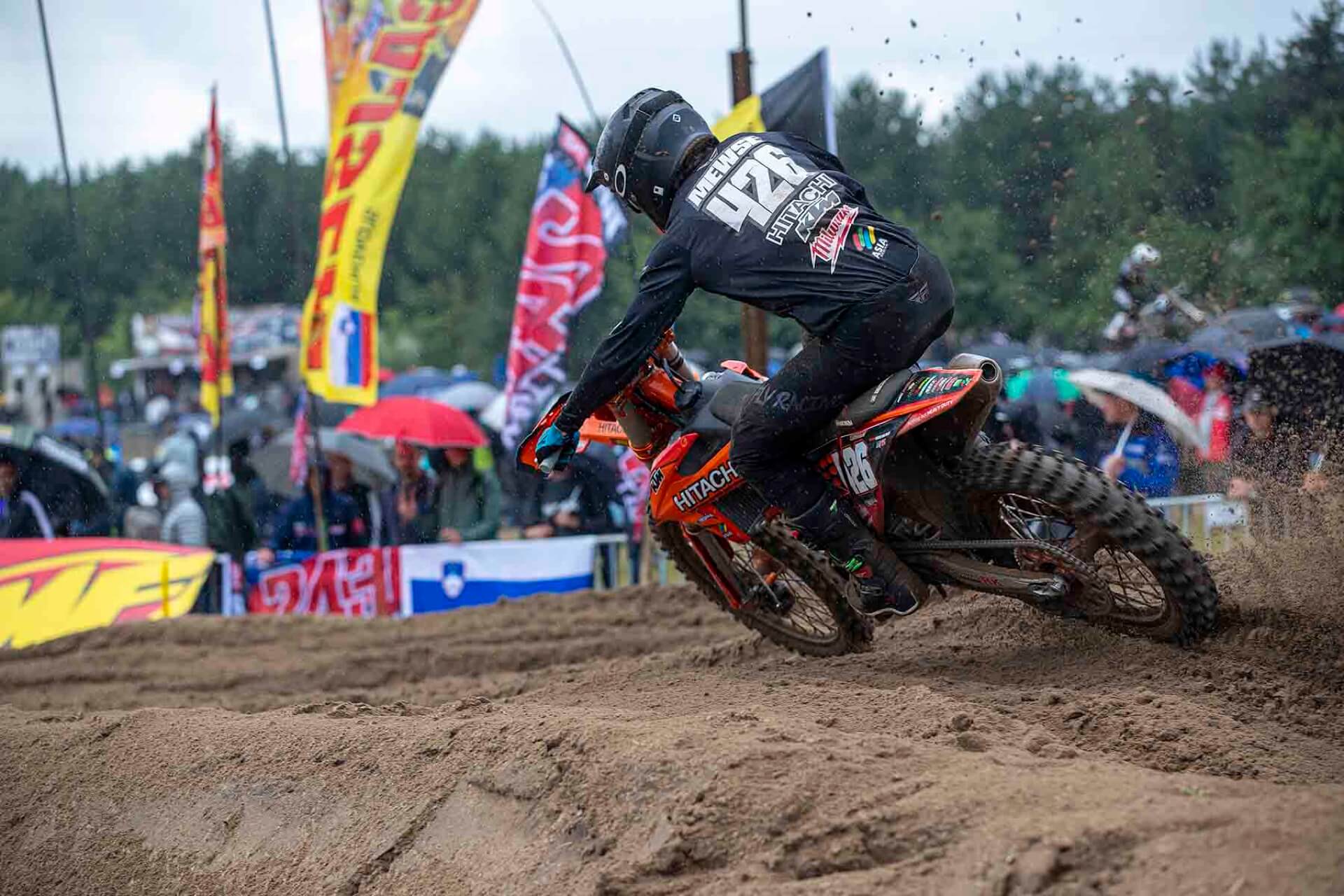 Conrad Mewse: "Today was a lot better than the last few weeks. We have just been able to get some work done lately. Overall, I am happy. Put the hard work in and you get the results – that is what we have done lately. We had a little electrical problem in the first moto, but it was not a big deal. The main thing is that I was riding good and felt confident."
Adam Sterry: "A difficult day for me. I didn't feel comfortable from the start and a few things did not go my way, but that is just how it goes sometimes. I had good starts both times but was a bit too wide to make them count. I sent it into the turn in the second moto and ended up going down. I'm healthy and looking forward to Blaxhall next weekend."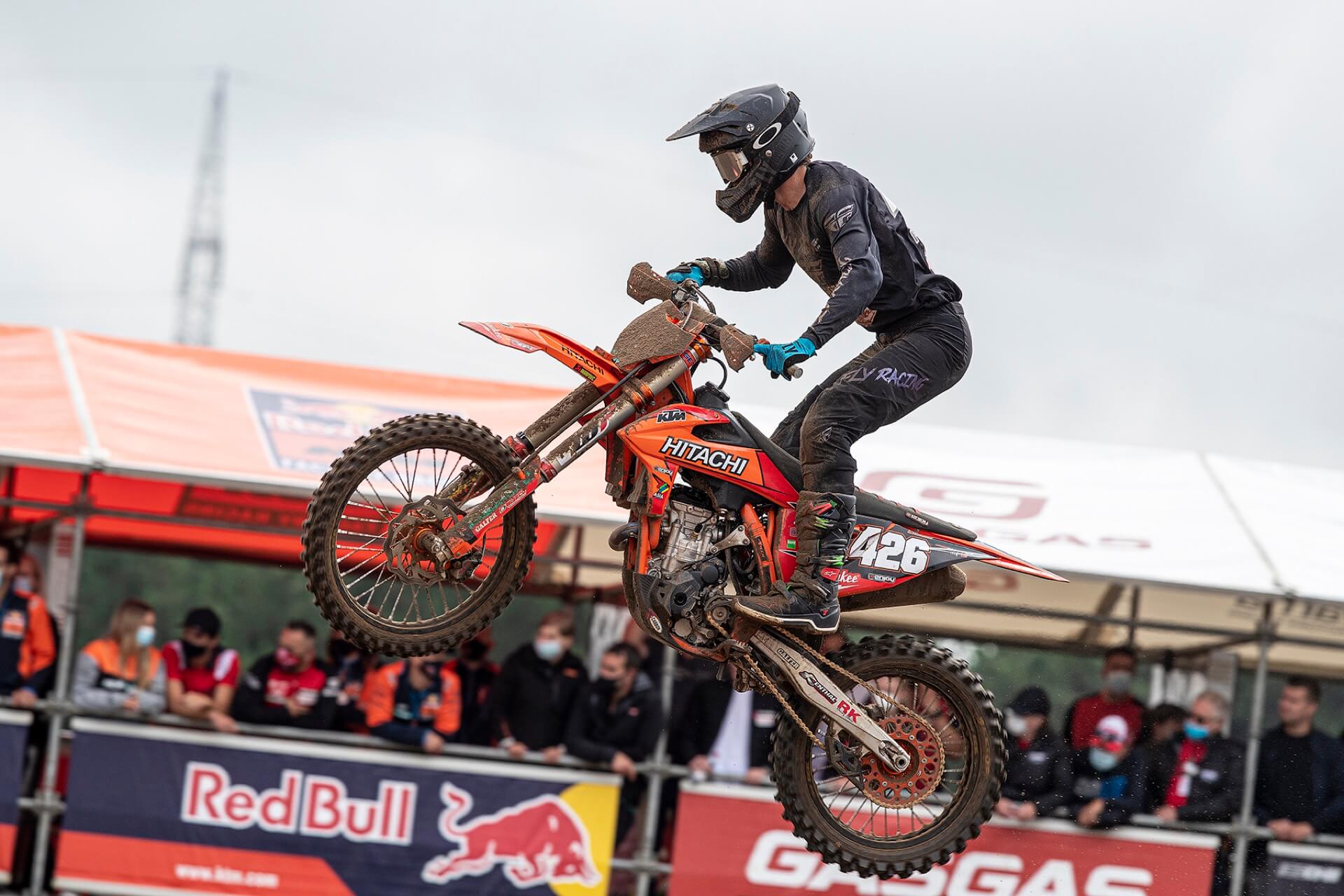 Roger Magee (Hitachi KTM fuelled by Milwaukee Team Owner): "Over the years, the iconic circuit at Lommel has been kind to the team results wise and Conrad's solid P4 in timed practice was a testament to that (despite having to take evasive action when Isak Gifting fell just in front of him whilst setting his fastest lap). In moto one he had a really good start and was looking very composed in P3 when his bike suffered an electrical problem, which caused him to DNF. Moto two saw a good start again and he was pacing himself for the gruelling race in the ever-changing deep sand when a heavy downpour caused him to make a goggle change, eventually bringing it home in P6 for his best finish of 2021 so far.
"Adam had a GP to forget as his time practice left him on the 'wrong' side of the gate to have any chance of making good starts and he finished just outside the points in both motos. The team will now prepare for the next round of the British Motocross Championship on August 08 2021 and will be forced to miss the MXGP of Latvia, despite the agreement that 'no British Motocross Championship will clash with a MXGP round in 2021' at the start of the year."