The Hitachi KTM fuelled by Milwaukee squad returned to domestic duty earlier today, as the fifth round of the ACU British Motocross Championship was held at Blaxhall. Conrad Mewse and Adam Sterry took to the old-school track. Ashton Dickinson, on the other hand, continued to follow advice from doctors and skipped the event to focus on recovering fully from his crash in the Czech Republic.
 
Mewse was simply dominant in the MX2 class. Securing pole position by more than a second and a half set the tone for his day, as he was unchallenged en route to the victory in the first moto. Mewse took that win by 25 seconds and continued to record lap times that were two seconds quicker than anyone else on track. The second moto was even more impressive for Mewse – a moto win with an advantage of more than a minute was quite a statement. Not only did he stand atop the box, but he also extended his series lead to 51 points.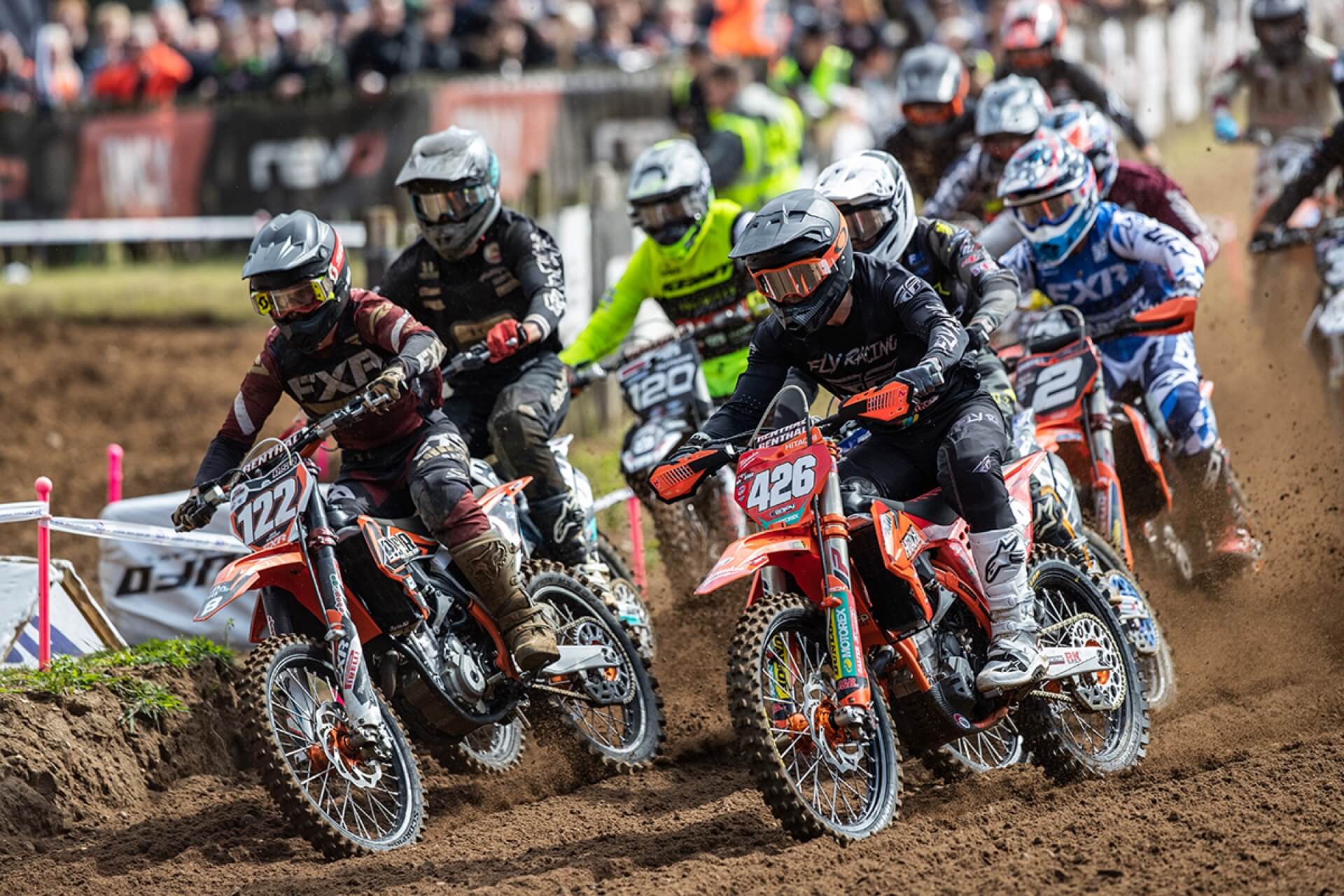 Sterry was deserving of a spot on the podium in the MX1 category, but just missed out after suffering from arm pump towards the end of the first moto. After running second for much of the moto, he was forced to settle for fourth at the end. Sterry progressed from sixth up to fourth in the second moto to record a consistent 4-4 scorecard that left him in fifth in the overall classification. Fourth is also the position that he occupies in the premier-class championship standings. 28 points is the difference between him and the series leader.
 
A small break in the schedule will allow Hitachi KTM fuelled by Milwaukee to make steps forward ahead of the second half of the season. The sixth round of the 2021 ACU British Championship will be held at Duns on August 28.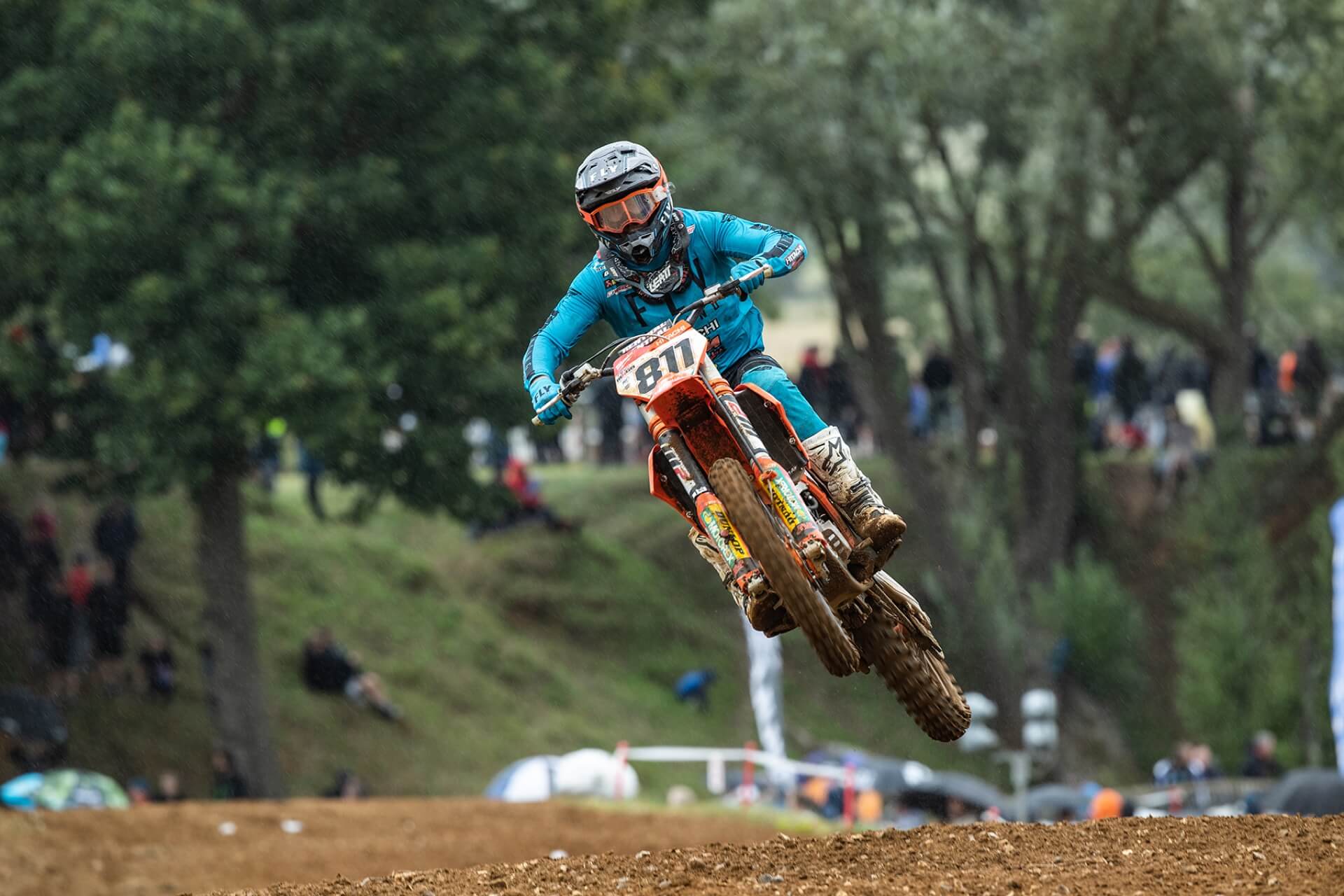 Roger Magee (Hitachi KTM fuelled by Milwaukee Team Owner): "Coming into today's British Championship event, the team had to make the difficult decision not to attend the MXGP in Latvia. Not only did this affect Hitachi KTM fuelled by Milwaukee, but a number of other MXGP and EMX riders. The ACU and organising clubs need to consider the livelihoods of their best and the up-and-coming riders when making decisions on dates, especially as there were other possibilities for this round.

"That said, Conrad showed his true speed that has returned again as he showed last weekend in the deep sand of Lommel. In moto one he inadvertently gave the rest of the field a start when his bike was between gears off the line. However, in just a number of laps he was into the lead which he extended to 28 seconds before the race was red flagged due to an incident. In moto two he made a much better start and passed [Florian] Miot in the early laps to take victory by over a minute and the overall win. 

"In MX1, Adam made a really good start and was in P2 for quite some time until the dreaded arm pump kicked in and he ended up in P4 just behind [Tommy] Searle. The second moto saw not such a good start but he made a number of hard but fair passes to bring it home with another P4."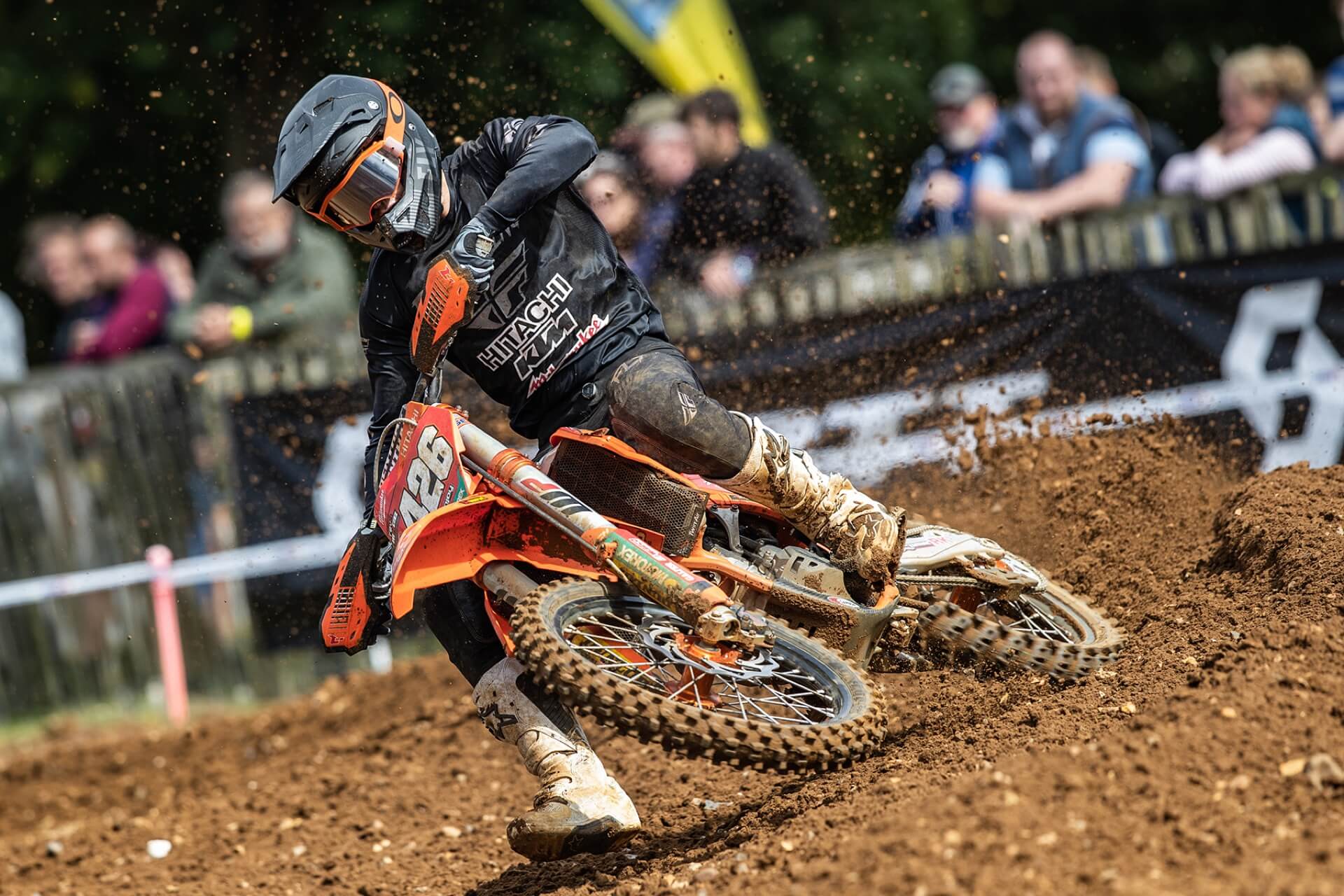 Roger Magee (Hitachi KTM fuelled by Milwaukee Team Owner): "Over the years, the iconic circuit at Lommel has been kind to the team results wise and Conrad's solid P4 in timed practice was a testament to that (despite having to take evasive action when Isak Gifting fell just in front of him whilst setting his fastest lap). In moto one he had a really good start and was looking very composed in P3 when his bike suffered an electrical problem, which caused him to DNF. Moto two saw a good start again and he was pacing himself for the gruelling race in the ever-changing deep sand when a heavy downpour caused him to make a goggle change, eventually bringing it home in P6 for his best finish of 2021 so far.
"Adam had a GP to forget as his time practice left him on the 'wrong' side of the gate to have any chance of making good starts and he finished just outside the points in both motos. The team will now prepare for the next round of the British Motocross Championship on August 08 2021 and will be forced to miss the MXGP of Latvia, despite the agreement that 'no British Motocross Championship will clash with a MXGP round in 2021' at the start of the year."