Brands Hatch, Sunday November 15: Laser Tools Racing's driver Ashley Sutton was crowned the 2020 BTCC Champion, lifting the most coveted title in British motorsport, and the team also came away with the Independent's Team Championship trophy.
Mid-November is very late for the BTCC season to finish, but due to this year's restrictions, the season only started at the beginning of August, instead of the more usual end of March. For Laser Tools Racing it has been an incredibly exciting year as we have run two brand new cars for the first time and what an outstanding season it has been.

The team started the weekend with a bang after some very impressive lap times in Saturday's free practice session — it was Ash Sutton in 2nd spot and Aiden Moffat in 4th on the timesheet. Ash's main rival in the championship, Colin Turkington was down in 14th.

For the (very early) qualifying session, the weather had turned and it was wet, windy and horrible! Not a problem for both Laser Tools Racing drivers as they are not fazed by wet conditions. But not all the other drivers shared their wet-conditions confidence — after five minutes of the session, Aiden went 2nd behind Dan Cammish and then Ash went top to push Aiden into 3rd as a red flag came out — Senna Proctor had binned his car into the barriers. At the half way stage, quoting the ITV commentators, "It's absolutely horrible out there!" Jake Hill then caused a second red flag and we ended up with a 10-minute shoot out. On the restart the two front wheel drive cars of Tom Ingram and Rory Butcher went to the top leaving Ash 3rd, Aiden in 13th and Turkington in 8th.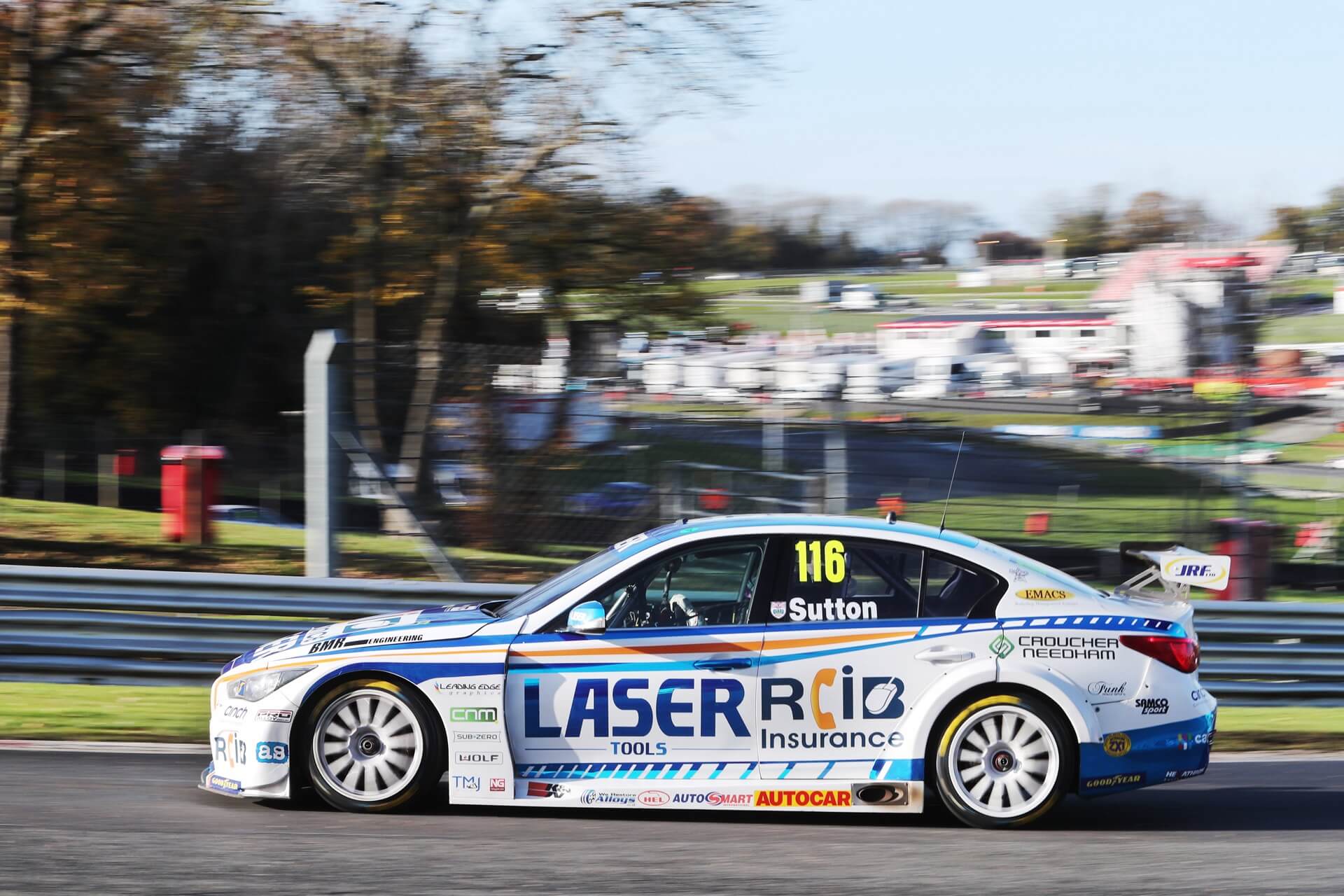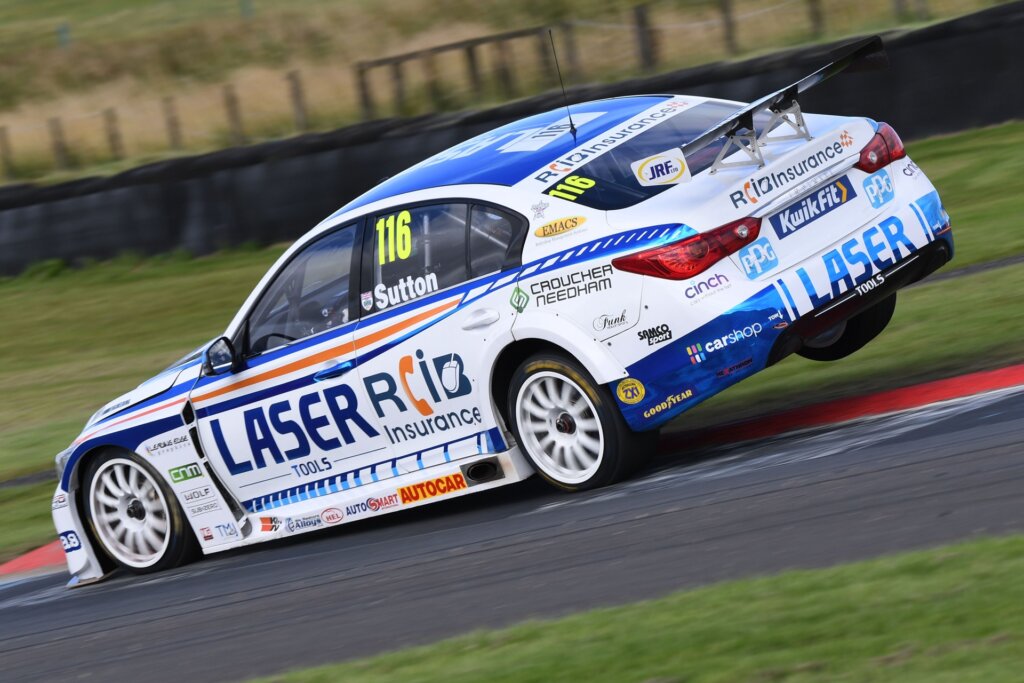 Race 1:
Wet, wet wet! Ash started in P3 and given the rivers running across parts of the circuit, everyone was worried about the potential for disaster. Luckily Ash got away well off the line before getting past Dan Cammish for 2nd on lap 2; Cammish fought back though and was able to retake 2nd the following lap. Shortly after there was a lengthy safety car after a driver crashed out at Druids and it was all back to square 1 again. Cammish was then able to take Tom Ingram for the lead in a hotly contested battle before Ash was also able to get past Tom on lap 18 for 2nd.

Ash under guidance from the team over the radio sensibly decided to back off and keep 2nd, rather than risk everything for the win. Behind this dramatic drive, Colin Turkington was limited to 9th giving Ash the lead in the championship by a couple of points. Aiden meanwhile had a fantastic midfield scrap bringing the car home in a very respectable 14th.

Race 2:
The sun is shining! Well, what a difference two hours makes. As the cars went out to the grid on wet tyres, the sun came out, and after much soul searching, everybody swapped to slicks before the start. There was a dry line developing, but the rear wheeled cars are notoriously slow at getting heat into the tyres on a cold day. Would this prove to be a gamble?

Ash made a great start getting up to second in the opening lap, and in an enthralling duel was eventually able to take the lead on lap 8. Back in 7th place, Colin Turkington was not going to give up without a fight though and started to progress through the pack, Ash meanwhile had his own problems as he started to lap the back markers with all of the dangers that involves if they don't see you coming! Mind you, Ash still managed to find time to slip in a fastest lap at the end for the extra point. Aiden had also had a great race and lot of action which saw him making ground to give him an excellent 12th place.
Ash enjoyed a resounding win with rival Colin in 3rd making it a 9 point gap as we went into the final race of the season. But then the drama, as the reverse grid was a blessing and a curse as number 12 was pulled out putting Aiden on pole but pushing Ash back in 12th, with Colin Turkington in 9th.
I would like to personally thank my group of staff at all levels across all our sites who have truly gone above and beyond to produce these parts. They've worked daily overtime and weekends, they've skipped breaks and greatly increased output to ensure that we could hit the numbers needed. They've done this against a background where everyone is also personally worried about their own health, families and loved ones. Their work is directly going to save lives and they should be very proud of their efforts."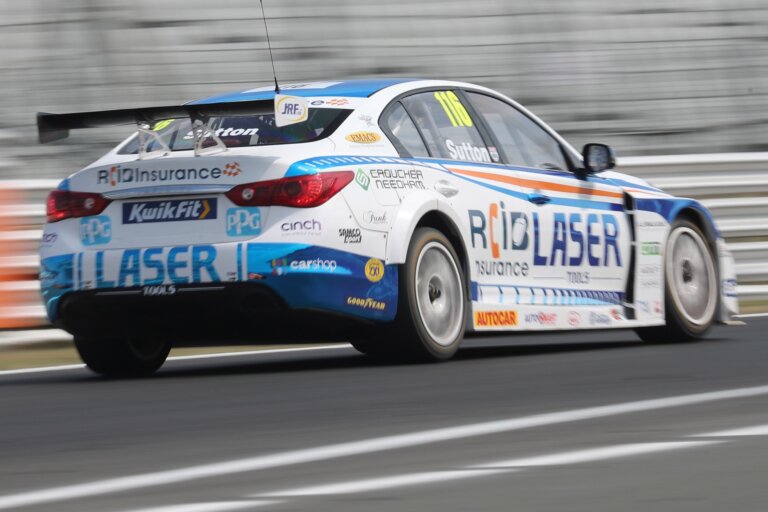 Race 3:
Although the Race 2 win and fastest lap gave Ash much-needed points, as usual with the BTCC, the final race of the season, Race 3 was going to be the decider — who will win the 2020 BTCC title? Ash Sutton or Colin Turkington? Or even Dan Cammish? These three drivers were still in the mix, with Ash on 340 points, Colin on 331 and Dan on 318. That was two manufacturer's teams versus Laser Tools Racing!

Although Aiden started on pole, the front-wheel-drive cars have the advantage of quicker tyre warm-up and he fell back a few places. With Ash starting in 12th his goal was to get right behind Colin Turkington as quickly as possible. And this he did, but Ash had the comfort of points: if he stayed behind Colin, and there were no dramas, Ash would win the championship. Ash commented: "I had learned my lesson at Croft, I had the championship in the bag, so I certainly wasn't going to try and get past Colin unless he made a mistake or left the door wide open." However, the opportunity did present itself and Ash cruised past the BMW 3-Series, and shortly after, Aiden sneaked past Turkington as well! So for most of the second half of Race 3 we were treated to the amazing sight of both our Laser Tools Racing Infinitis lapping together, Aiden Moffat as Ashley Sutton's wing-man, giving Ash the security of not having to defend his position from behind.

At the end, Ash finished in 6th place, Aiden in 8th, in what would normally be a very exciting and acceptable tally for the team, but this year, 2020, it was car number 116, the Laser Tools Racing Infiniti of Ash Sutton that everyone was watching. Ash passed the chequered flag with tears in his eyes, he had achieved his second BTCC championship!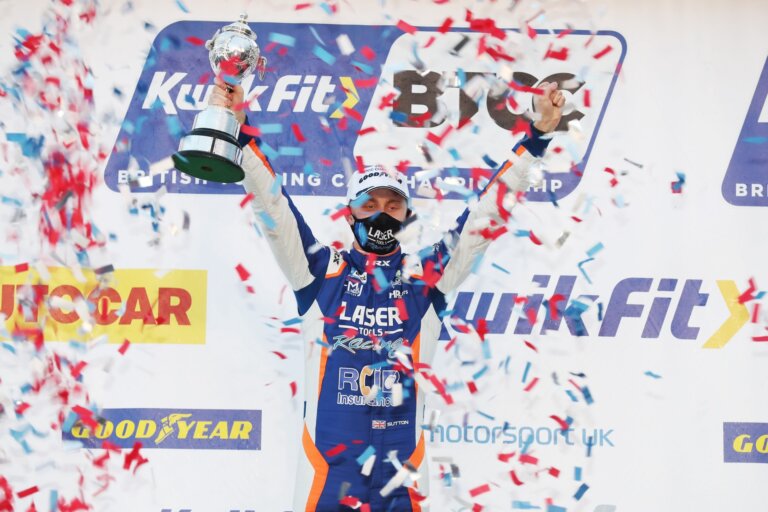 "It's an absolute dream to get this," said Ash, "For an Independent team to win the overall championship. It's been a long time since that's happened, so I have to thank everyone involved. It's just a real shame that we can't experience it with the crowds and fans. All year we've tried to put on a good show, and it's been absolutely mega to even be racing after everything that's happened, but without the support of the fans at home it wouldn't be possible.

"I'd like to think that we won the championship in that last race with the inner racer showing, rather than the conservative. I still wanted to give the guys at home a good show and we did that to come away with the championship."

Aiden Moffat was excited with the outcome also, especially with his team winning the Independent's Team Championship trophy: "I was over the moon to see a true mate win the BTCC Championship — all the more special seeing what this family-run BTCC team has achieved since it started in 2014 with Laser Tools. It's proved what we knew when we brought out that Infiniti Q50 last season. Been a hell of a learning curve for myself this year with my limited rear-wheel-drive experience but I come away happy with my improvements and look forward to the future. Well done again to Ash!"
#TeamSamco is proud to have supported the Laser Tools Racing team for 2020 and look forward to further success together in the future. Congratulations to Ash and the BMR Racing family from all here at SamcoSport.